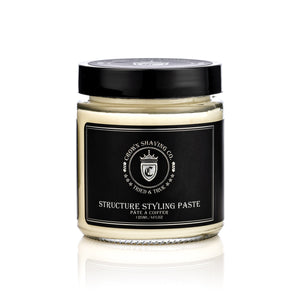 Crown Shaving Structure Styling Paste 120 ml/ 4 fl oz.

Description: A pliable styling paste that'll give you good hold and a natural, matte finish. If shine and reapplying product aren't you, then this is. Sulfate and paraben free.
How To Use It: Either dry or damp hair will do. Grab a little, rub it through your palms and fingers then style your hair as you please. Don't go overboard or your hair will harden like cement. Tip: If you've got a longer cut, start from the root then work your way up so the product's well distributed.